Top Universities to Study in USA for Indian Students
For Indian students aspiring to pursue higher education abroad is a big dream. With an illustrious reputation for its world-class universities, Study In USA for Indian Students is the first choice. American universities offer rich academic traditions, the best research facilities and diverse cultural facilities. Nowadays the majority of Indian students are choosing abroad colleges because of global exposure and specialised programs for studying. Success in studying abroad hinges not only on the aspiration to pursue education overseas but also on the critical task of choosing the right university that ensures a quality academic experience.
Selecting the best colleges in the USA for Indian students is not an easy process. There are so many things that need to be looked out for. The United States stands as one of the most sought-after destinations for Indian students. The US offers a diverse range of universities renowned for their academic excellence, cutting-edge research facilities, and global recognition. If you're an Indian student aspiring to study in the USA, partnering with a reliable overseas consultant like Keyway Abroad in Udaipur can provide valuable guidance and support in making informed decisions about your educational journey. Let's explore some of the top universities to study in USA that Indian students often consider for their studies.
List of Universities to Study in USA:
Stanford University, nestled in the heart of Silicon Valley, serves as a dynamic hub for innovation and entrepreneurship. This university has seven academic schools and 18 interdisciplinary schools from which there are 200 graduate courses to choose from. Students who are willing to choose technology & engineering must opt for this college. 
Massachusetts Institute of Technology (MIT)
MIT stands as a global frontrunner in science, technology, and engineering education. Students with a passion for research and innovation must opt for this university. This university provides keen knowledge to students from their expert professors. MIT commits to pushing the boundaries of knowledge and solving real-world problems, which makes it an ideal destination for those seeking to make a lasting impact in their chosen fields.
California Institute of Technology (Caltech)
Located in Pasadena, California, Caltech is best for those who want to pursue science and engineering disciplines. Caltech cultivates a collaborative learning environment through its small class sizes and close-knit community. This university enrols less than 1000 undergraduate students per academic year.
Situated in the bustling metropolis of New York City, Columbia University offers a dynamic learning environment and a wide array of programs. This university has more than 17,000 international students. Those students who have diverse academic interests must go to this university. Along with its excellence in academics, you will also adore its rich cultural scene. 
Located in the historic city of Cambridge, Massachusetts, Harvard University stands tall as one of the world's most prestigious institutions of higher learning. Harvard University offers an extensive selection of approximately 90 undergraduate and 150 graduate programs for students to choose from. Among its popular programs are business administration, law, and medicine.
Known for its picturesque campus and undergraduate-focused education, Princeton University ranks among the top Ivy League institutions. Princeton University is known for delivering top-notch education across diverse fields, including social science, engineering, computer science, public administration, and more.
Nestled in the charming city of New Haven, Connecticut, Yale University is celebrated for its strong liberal arts education and emphasis on critical thinking. Those students who are looking for a well-rounded academic experience and a vibrant campus life must opt for this university. This university also offers scholarships to students, so in case there is a financial crunch you can apply for that.
University of California, Berkeley (UC Berkeley):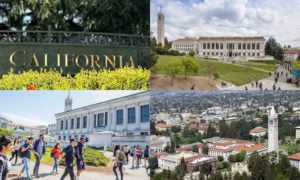 Located in the San Francisco Bay Area, the university offers Indian students a unique blend of rigorous academics and a thriving cultural scene. As a public research university, UC Berkeley is renowned for its diverse academic offerings and a commitment to social impact.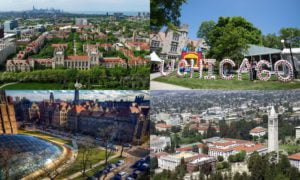 Situated in the vibrant city of Chicago, the university offers a wealth of opportunities for personal and academic growth. All those students who are seeking strong intellectual and interdisciplinary education must opt for this. With expert faculties, this university offers professional growth in future.
New York University (NYU):
Situated in the heart of Manhattan, NYU provides Indian students with a bustling urban campus and a wide range of programs. NYU's global network and access to renowned faculty make it an attractive choice for those seeking a cosmopolitan educational experience. All those students who dream about top-notch education must opt for this university.
ALSO READ Things To Do Before Studying Abroad
There are many requirements of Top Universities to study in USA for Indian students that you need to consider. Research about the range of academic programs offered, the reputation of the university and its global ranking. Also evaluate the location's cultural, social, and economic aspects, as well as the cost of tuition and living expenses. Never forget to check the safety and security measures as you have to live there for a long time.
Study in USA for Indian students is not that easy as there is a complete cultural and environmental shift. But to make the process easy we are here to help you. From what university to select to how to get admission, we provide you with proper guidance. Keyway Abroad helps in settling in a foreign country with ease. Our team of counsellors will help you and guide you in choosing the best college according to your preference.
Embark on a transformative academic journey with leading Universities to study in USA for Indian students with Keyway Abroad, Udaipur-based consultancy.
Follow us on facebook @keywayabroad
Apply Now for our study abroad program